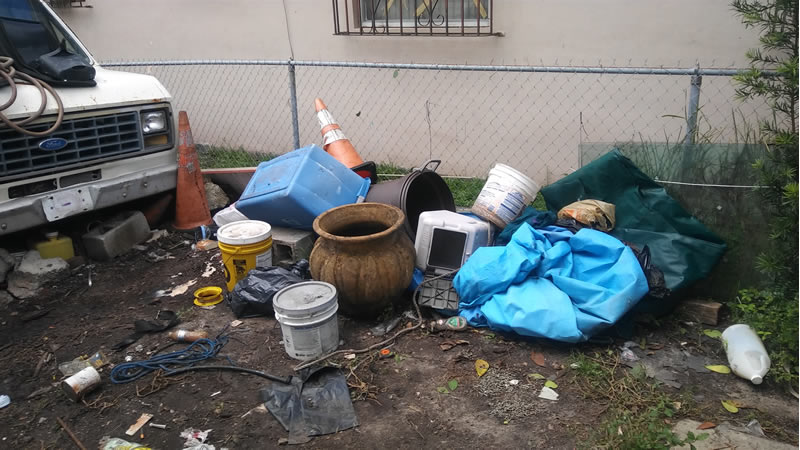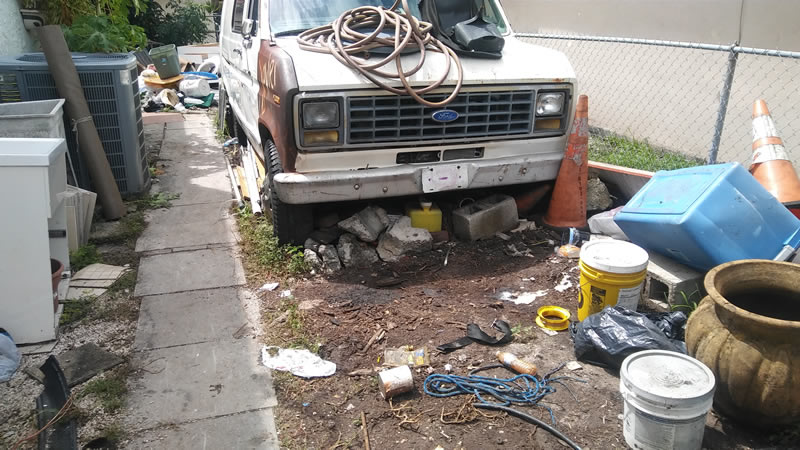 ECS - Yard Cleanup Company. Junk, Trash and Renovations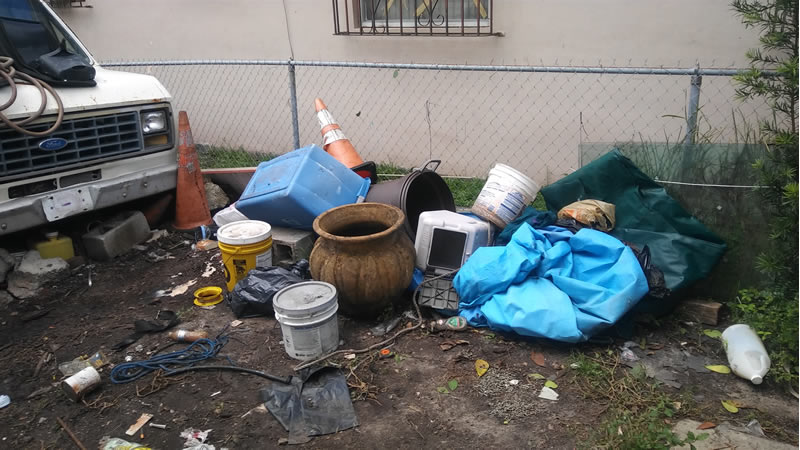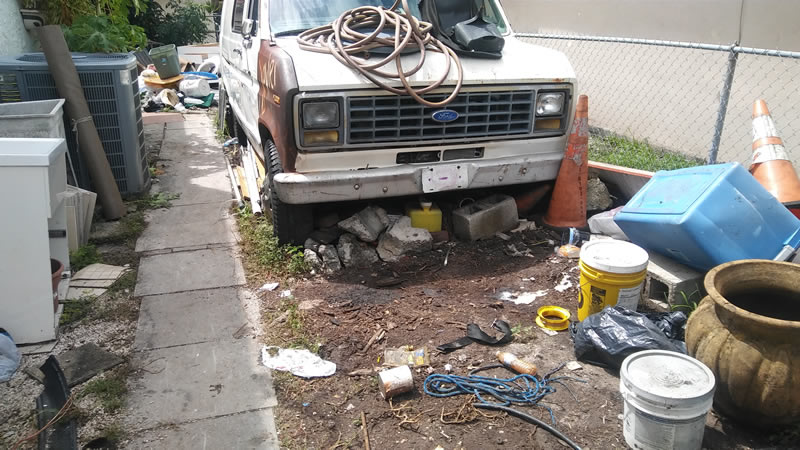 Estate Cleanup in Hialeah
In Hialeah there are a lot of older homes with a unique artistic flavor to the area. These homes can have a lot of junk and trash in the yard. This can include cars and trucks. For example, at this location there was an old truck which looked like it was from 1980 and was not running. The truck needed to be towed from the location to the junk yard. There is also a lot of old paints and chemicals in this cleanout job and those items need to go to a special dump location. There is generally an additional cost for dumping these items and the cost is controlled by the individual city dump rates. Yard cleanup can a particularly dirty and nasty job and can be enhanced by the weather conditions.
ECS is your professional Estate Cleanup company ready to assist you in getting your property ready to be rented.
TAG: Property Cleanout Services Coral Gables | Property Cleanout Services Kendall | Property Cleanout Services Pinecrest | Property Cleanout Services Hallandale Beach
How to Sort Out Your Yard Waste
Do you need a company that will sort out your organic yard wastes for you? Then look for a center that can serve as your one-stop trash drop which can accept your yard waste.
These companies can often convert your waste into mulch. Mulch is a kind of a recycled wood mixed with earth. You can even receive a discount when you bring in your own yard waste to these companies.
What to Do with Wood Waste?
There are local counties that subsidize the recycling of wood. You can receive huge discount rates when you find yard waste dump near me that are affiliated to the government when it comes to wood disposal. These companies normally collect wood and convert it into a very clean mulch. After the mulch is formed, it can be used in a lot of ways including flooring for the playground, landscapes, and animal beds.
The regular residents can receive as much as 40% discount when they buy mulch. However, there are companies who do not give subsidies to commercial businesses and construction job sites so you might as well inquire about your options first if you own one of these.
Here are some of the wood wastes that are generally accepted:
They should be unpainted, unstained, and untreated. If this is the case with your wood waste, you can drop them off to companies that convert them into mulch. Other woods that you can drop off include:
-Pallets, OSB, Plywood, Dimensional Lumber, Particleboard, Microlams, I joists, and other engineered wood products.
-Wood that is not accepted includes wooden boards that are treated with creosol, CCA, wood-polymers, paints, and plastic products. The materials are not accepted because since they are going to be converted into mulch, the chemicals can be toxic to plants and animals.
If you have plenty of yard waste that you are considering to convert into trash and landfills, you can instead turn it over to the local collection service. These organic yard wastes can be converted into mulch in no time with little costs involved.
You can clear your yard from the following and turn them into mulch:
Grass clippings, sawdust, food wastes such as vegetables, meat, etc, dried flowers, wood shaves, dried leaves, and a lot more. On the other hand, the following are not accepted: debris from construction, dirt, rocks, sod, woody wastes that have over 12 inches diameter, lumber, and droppings of animals.
Note that these companies should be government affiliated. Your wastes can be valuable when you can convert them into mulch. Your community can benefit a lot from the discounts that are offered by these companies. If you have a lot of wastes that are just decomposing in your yard and results in producing carbon dioxide in the air, you better bring them to someone who can convert them to things that have value. Be in search of the right company today. Dispose of your waste in the right manner and help save the environment.
TAG: Property Cleanout Services Kendall | Property Cleanout Services Pinecrest | Property Cleanout Services Hallandale Beach
Why Mowing the Grass is Essential for your Lawn
If you have a lawn, you might be tempted to let the grass grow because it can be hard work to mow them down frequently. However, it is also important for you to realize why you need to mow your lawn from time to time.
Here are some of the reasons why you need to mow the grasses:
1. Have a Cooler Land
You should see your lawn as a kind of a little forest. If you have a lot of tree canopies, the more it will provide shade on your house. This is the same thing with your lawn. If you mow higher grasses, the more shade will fall below them and you will have a much cooler soil as a result. Keep in mind that when you have cool soils, you can discourage the growth of weeds and discourage drought.
2. Ideal Mowing Heights
You have to keep your grasses on their ideal height. When you mow the grass, the ideal height should be about 3 to 4 inches since most of them can reach higher when it comes to their growing seasons. You can cut them in the height of about 2 inches when autumn comes. The ideal cut for early spring is also about 2 to 3 inches. The proper height gives your lawn a chance to capture the right amount of sunlight that will provide the right shade.
There are areas where shades and colors can diminish. However, you can still maintain them by cutting the grasses on their ideal heights. You also promote a root system deep in the earth that will allow your grass to capture the right amount of sunlight that they need in order to have the right color. Your cut should have the grasses withstand a flood, foot traffic, extreme heat, and drought seasons so that they will be able to provide you with a more attractive lawn.
3. You will be Able to Use the Right Lawn Mower
Most of the time, some homeowners use mowers with dull blades. This does not help the grasses in any way at all. The blades might produce shreds and they can be exposed to the fungus. You will have a brown or a tan colored lawn after you mow your yard. The heat and water will not be able to reach the soil properly. Shredded grass leaves and an imperfect lawn with a brown color can be a crime to every homeowner.
4. Mulches
If you have plenty of grass clippings, you can use them to produce some mulch. You will be able to make your soil richer in the process. You should also drop the belief that grass clippings greatly contribute to the buildups of thatch. This is not true for all. Mulch is a kind of free fertilizer that you can utilize. It is also free, easy-to-use, and available whenever you need it. Aside from this, it contains a lot of nutrients needed by your grasses in order to have the right lawn colors.
TAG: Property Cleanout Services Kendall | Property Cleanout Services Pinecrest | Property Cleanout Services Hallandale Beach